Daisy Daughter rating: 4 of 5 stars
Book source: Public library
Genre: Juvenile fiction
Corey and her brother, Travis, are spending the summer at their Grandmother's Inn in Vermont. With a history of ghost sightings, Corey and Travis are determined to do their part in adding to the Inn's spooky reputation by staging their own ghostly apparitions. What they don't realize is their antics will awaken a vast community of dormant spirits and unleash the very evil, Miss Ada.
All the Lovely Bad Ones by Mary Downing Hahn, was our Mother/Daughter book club selection for March.
This was surprisingly eerie! I started it one night, after the kids were in bed, and my husband out of town, only to realize, that I was a bit uncomfortable reading about a haunted Inn. I was even more surprised that my daughter FINISHED it and liked it, in spite of its supernatural setting.
The tale of the Inn being a former "work farm" for orphans, operated by two ruthless caretakers, was clever and authentic. And that the orphans died at the hands of their tormentors was equally sad.
Then ending was quite chilling as well.
For a juvenile work of fiction – it gave me the shivers!
All the girls loved it. It was a great discussion about ghosts, whether they'd ever seen one, whether they believed in them or not, would they stay in a haunted house or not – all very interesting questions and answers.
April: Mackenzie Blue: Friends Forever? by Tina Wells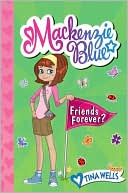 May: Lions of Little Rock by Kristin Levine (I read this a month ago and LOVED it!)