It's Monday! What Are You Reading? is hosted by
Sheila at One Persons Journey Through a World of Books.
It's is a weekly event to celebrate what we are reading for the week as well as books completed the previous week.
Finished, done, complete, over, that's all she wrote...
After 9 weeks of questions, answers, analysis, complaints, euphoria, tears, and heartbreak...I finally finished
Lonesome Dove
by Larry McMurtry. My review will be up tomorrow and our final read along Q&A will be posted on Wednesday -- but for a teaser here and now -- it was an epic journey that everyone should complete. Was it perfect, no, but in the end the characters wrapped me up and wouldn't let me go.
Currently Reading: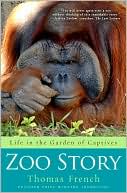 Pulitzer Prize-winning journalist Thomas French goes behind the scenes at one of the country's most popular—-and most controversial—-destinations: zoos.
UP NEXT:
Summary from B&N:
...In this story of love, God, faith, and torture, fifteenth-century Spain comes to dazzling, engrossing life.
I'm eager to get back to a regular reading routine of manageable 300+ page books instead of mammoth 900+ page tomes.
What are your reading this week?