This is a quick giveaway -- just a brief 48 hours of fun -- and it leaves you with enough time to finish up any leftover holiday shopping! Giveaway will close at 11:59pm CST on Wednesday, December 22nd and is good for US/Canada participants.
For my holiday offering, I have one hardback copy of: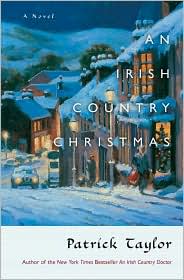 Summary from Publishers Weekly:
Taylor's delightful holiday update to the Irish Country series returns to Ballybucklebo, where Dr. Fingal O'Reilly and junior partner Barry Laverty are still practicing their humorous brand of country medicine. As Christmas draws closer, the two men contend with a variety of comical village ailments and the usual array of Ballybucklebo characters, as well as romantic troubles. O'Reilly is trying to decide if he will allow himself to love again with the vivacious Kitty O'Halloran, and Laverty is distraught because his girlfriend can't seem to make it home for the holidays. Then a new doctor comes to town and causes a ruckus by poaching their patients and prescribing ludicrous cures. This has all the charm of Taylor's previous books and adds Christmas warmth without sacrificing credibility.
To enter the giveaway you must either be a follower or become a follower via GFC on the right sidebar, fill out the attached form AND answer the following in the comments section: Have you been to Ireland?
To continue the holiday cheer, check out the many other blogs participating in the Midwinter's Eve Hop!
May your holidays be joyous and your stockings be filled with all things literary!