Disaster. Tonight's meeting was an absolute disaster. The girls were uninterested, ill-mannered, and totally unfocused. I'm not sure if it was the book or the moon -- but if I could call "do-overs" this would be the night.
We read
The Candy Bomber
-- a book that both Daisy daughter and I loved -- but wasn't particularliy a winner with the group. It was our first venture with a non-fiction selection, so maybe that had something to do with it. Regardless, they spent more time discussing what book to read NEXT month, than they did about Col. Halverson's heroic efforts during the Berlin airlift.
Oh well, maybe next month will be better.
After much deliberation, they selected: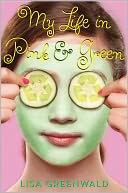 Summary: Twelve-year-old Lucy Desberg is a natural problem-solver. At her family's struggling pharmacy, she has a line of makeover customers for every school dance and bat mitzvah. But all the makeup tips in the world won't help save the business. If only she could find a way to make it the center of town again—a place where people want to spend time, like in the old days. Lucy dreams up a solution that could resuscitate the family business and help the environment, too. But will Lucy's family stop fighting long enough to listen to a seventh-grader?