Book Source: Public library
Parenting is the most difficult when trying to support your teenage son after the suicide death of his best friend. But when the son's behavior starts to mirror that of the deceased friend, panic sets in and parents will do all most anything to keep their son alive – including spying.
Mike and Tia Baye have "doctored" their son Adam's gadgets – cell phone, computer, -- with spyware and tracking systems, all in an effort to learn where he is going and what he is doing in the aftermath of best friend, Spencer's, suicide. What they don't realize is their "protection" will start a domino effect of potentially fatal situations that none of them would have predicted. At the same time, a serial killer has taken the lives of two seemingly, unsuspecting women – are the Baye's problems and these gruesome deaths related? In a sequence of twist and turns and dark alley altercations, the reader will soon find out the truth.
Hold Tight by Harlan Coben was our book club selection for June. A murder mystery with modern day implications of teenage suicide and prescription drug abuse, Mr. Coben has written a fairly formulaic "whodunit" with the angst of parenting in the 21st century.
This is not a book I would have chosen on my own – and I'm not sure I would read any of this again.
Using multiple story lines in alternating chapters, Mr. Coben weaves the fear of the Baye's against the back drop of a series of unexplained murders. Although I was kept guessing as to how these converging story lines would finally resolve themselves, it was an unsatisfying conclusion: Crazy brother in law turned serial killer; bar bouncer and little sister to the rescue; police chief getting married – it was all very odd in various places.
I can see why Mr. Coben is very popular – he keeps you guessing until the end – but it wasn't particularly satisfying for me.
Our July book club choice is: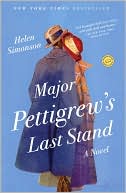 Summary:
In her charming debut novel, Simonson tells the tale of Maj. Ernest Pettigrew, an honor-bound Englishman and widower, and the very embodiment of duty and pride. As the novel opens, the major is mourning the loss of his younger brother, Bertie, and attempting to get his hands on Bertie's antique Churchill shotgun—part of a set that the boys' father split between them, but which Bertie's widow doesn't want to hand over. While the major is eager to reunite the pair for tradition's sake, his son, Roger, has plans to sell the heirloom set to a collector for a tidy sum. As he frets over the guns, the major's friendship with Jasmina Ali—the Pakistani widow of the local food shop owner—takes a turn unexpected by the major (but not by readers). The author's dense

, descriptive prose wraps around the reader like a comforting cloak, eventually taking on true page-turner urgency as Simonson nudges the major and Jasmina further along and dangles possibilities about the fate of the major's beloved firearms. This is a vastly enjoyable traipse through the English countryside and the long-held traditions of the British aristocracy.