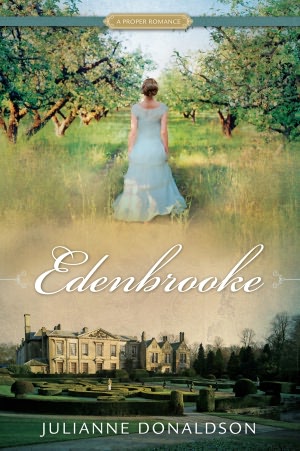 Edenbrooke
by
Julianne Donaldson
My enjoyment rating:
3 of 5 stars
Book source: Library
Genre: Fiction, Regency Romance
Objectionable material: None
Summary from book: Marianne Daventry will do anything to escape the boredom of Bath and the amorous attentions of an unwanted suitor. So when an invitation arrives from her twin sister, Cecily, to join her at a sprawling country estate, she jumps at the chance. Thinking she'll be able to relax and enjoy her beloved English countryside while her sister snags the handsome heir of Edenbrooke, Marianne finds that even the best laid plans can go awry. From a terrifying run-in with a highwayman to a seemingly harmless flirtation, Marianne finds herself embroiled in an unexpected adventure filled with enough romance and intrigue to keep her mind racing. Will Marianne be able to rein in her traitorous heart, or will a mysterious stranger sweep her off her feet? Fate had something other than a relaxing summer in mind when it sent Marianne to Edenbrooke.
This was a predictable regency romance: girl meets boy, boy is a jerk, girl forms bad opinion of boy, boy and girl meet up again on a luxurious estate, verbal repartee begins, feelings for one another take shape, girl and boy have misunderstanding, girl thinks all is lost, boy comes to the rescue, concludes with smoldering kisses, breathlessness, and promises of unyielding love and lots of money on previously mentioned luxurious estate.
There was nothing particularly new in this book. It was cute. It was fun. But nothing special. One thing I missed while reading this book – the writing. Author Julianne Donaldson chose to write this in a very 21 century-type dialogue. There is something to be said for the rich, formal, fussy, even complicated language of traditional regency romances (like Georgette Heyer). It just didn't "feel" like the 19th century. Could have been any romance, with the exception of carriages and corsets.
A quick, simple, weekend read.