OK -- things aren't really rotten over here in book blogging land...they are just very, very tired.
Very little reading has been done of late.

After being diagnosed as anemic, low Vitamin D, and borderline diabetic (something that can be controlled through diet and if I stop eating so much dang watermelon!) I've been focusing on health issues -- beginning with an early morning (as in 5:30am) 4 mile walk to start my day, as well as an occasional tennis match (which has shredded my shoulder, that now requires surgery, but that is another post entirely).
The 4 mile walk is great -- the time of day, not so much.

By 10am I need a nap.

But curling up in the stacks at the library is not an option.

So the first thing I do when I get home, before the kids arrive from school, is sleep.

Normally that time has been when I get the majority of my reading done...but I can't even turn a page before completely crashing.
I have read 2 books since my last post -- neither of which were particularly memorable:
The Maid's Version by Daniel Woodrell (3 out of 5 stars)
Best known for his book, Winter's Bone (and probably the movie starring, Jennifer Lawrence), I was eager to start this slim novel

based an actually catastrophic event, the explosion of the Arbor Dance Hall in 1928 (in SW Missouri).

Although the writing was spectacular -- really, the first 2 pages of the book were probably some of the most vivid, descriptive pages I've ever read -- but I got lost in the narration, and who was telling the story - was it Alma the maid? Her grandson, whom she's telling the story?

For such a short book (170+pgs), it's hard to imagine being confused...but alas, I was.

However, I gave it props (3 stars) for the writing alone.

I'm determined to read Winter's Bone too.
Divergent by Veronica Roth (2 out of 5 stars)
This book suffered from nothing other than I am experiencing dystopian fatigue.

It seemed

the same, or variations on similar themes, as

all other dystopian lit I've read - nothing particularly unique. Divergent particularly appeared to rely heavily on themes in Lois Lowry's The Giver -- but in a much more violent/YA way. I only finished it a few days ago and it's already been forgotten.

Book 2 is not in my future.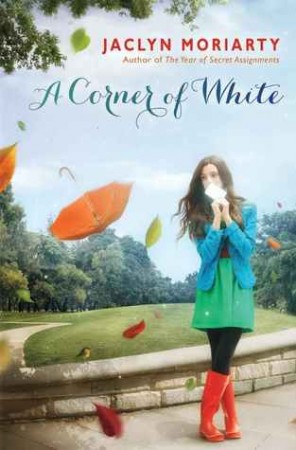 My current reading venture is The Corner of White by Jaclyn Moriarty.

After reading and loving The Husband's Secret by Liane Moriarty -- I thought I would give her sister's YA novel a go.

So far I'm intrigued -- time travel elements mixed with modern day -- I can't quite figure out where she's going with the storylines and characters -- but I'm invested and interested enough to find out.
In other news...I have an article about Mother Daughter book clubs set to publish in Little Rock Family, our local family magazine, in November.

If I could do nothing else it would be to write about community reading and book clubs, in all their various forms.
Hope your reading endeavors are progressing along better than mine.
Embrace the cooler temperatures and brilliant fall colors by curling up with a good book.