I am starting this post with a retraction. When I reviewed this
book
earlier this summer I said, "...who was the audience for this book? Once again, all of the 5 star reviews are primarily from adult, white women -- are the 9-12 year olds (for whom this book is intended), liking it as much at the adult audience? I can't answer that – because I don't think they have Goodreads accounts. I do know this book would be over the head of my 9 year old and the majority of our Mother/Daughter book group participants. And when I read juv fiction – that's who I'm trying to "channel."
So, here is the truth: The girls LOVED this book. Moms too. And I mean LOVED it. To the point where they cried over certain scenes. I am the only one who was on the fence. I'm beginning to question my ability to accurately judge/review a book! All of the nuances that I thought would be "over their head" they ate up. They loved the mysterious notes and their friendship escapades. Ultimately they loved the "laughing man" and Marcus. And I'll leave it at that. Our discussion focused mostly on that issue. Some were still confused about the relationship, but it was fun to talk it through.
I re-read most of it in preparation for tonight...and knowing my daughter was reading it too, helped me look at it with a different perspective, so, I liked it more than the first go around...but it didn't elicit any emotional tears! I guess I just wasn't meant to read juvenile fiction!
The whole group was also interested in Ms. Stead's first book, First Light -- has anyone read it?
Because of the holidays, we take a break in December, so our next meeting is in January -- and the girls picked: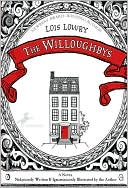 Summary from B&N:
Abandoned by their ill-humored parents to the care of an odious nanny, Tim, the twins, Barnaby A and Barnaby B, and their sister, Jane, attempt to fulfill their roles as good old-fashioned children. Following the models set in lauded tales from "A Christmas Carol" to "Mary Poppins", the four Willoughbys hope to attain their proscribed happy ending too, or at least a satisfyingly maudlin one. However, it is an unquestionably ruthless act that sets in motion the transformations that lead to their salvation and to happy endings for not only the four children, but their nanny, an abandoned baby, a candy magnate, and his long-lost son too. This hilarious and decidedly old-fashioned parody pays playful homage to classic works of children's literature.