Book: The Coral Thief by Rebecca Stott
My enjoyment rating: 3 out of 5 stars
Book club Rating: This only managed a C from my book club members.
Book Source: Book club kit from public library.
Summary from B&N:
Paris, 1815. Daniel Connor, a young medical student from Edinburgh, has arrived to study anatomy at the Jardin des Plantes—only to realize that his letters of introduction and precious coral specimens, on which his tenure with the legendary Dr. Cuvier depends, have been stolen. His thief turns out to be a beautiful woman who lives in a shadowy realm of outlaws, philosophers, and émigrés. As Daniel falls in love with her, he discovers a radical theory of evolution that irrevocably changes his conception of the world.
We all were underwhelmed by Ms. Stott's The Coral Thief. Our biggest complaint – what was the big deal about coral and why should we care? Ms. Stott, via her novel, never answered that question. None of us knew how significant this plant/animal was in the scientific theory of the time. In fact, in the book Reef Madness by David Dobbs it says, "Few questions in 19th-century science aroused more controversy than the origin of coral reefs." Obviously, her book was written to explore this fictionally – but the story never did capture the intrigue surrounding this "controversy." Also, the "romance" created between Daniel, the young scientist, and hardened coral collector, Lucienne, never developed. It was hard to determine why a woman in her 40s would be so smitten with a twentysomething. When asked by my husband to give a quick synopsis of the book – I replied, "It was a 19th century version of Ocean's 11 –but instead of breaking into a vault in Vegas – these "thieves" were trying to break into a scientific laboratory/museum." It did not generate the energy I was expecting.
In spite of the shallow story line – I LOVED Ms. Stott's writing. Her descriptions of post revolutionary-Napoleonic France were amazing! I was completely immersed in the atmosphere of Paris. Also, her side story detailing the exile of Napoleon was intriguing too – so much so, that I want her to write a book about him and his life on St. Helena island. That side story was much more captivating than coral. Because of her writing, I'm tempted to read her first book, Ghostwalk – a novel centered on the life of Sir Isaac Newton.
Our March book club choice: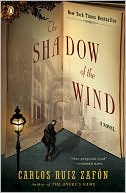 I've had this book for 5 years -- I'm VERY happy to be taking it off my library shelf.