It's Monday! What Are You Reading? is hosted by
Sheila at One Persons Journey Through a World of Books.
It's is a weekly event to celebrate what we are reading for the week as well as books completed the previous week.
Kids were out of school on Friday because of snow, more snow in the forecast for this week -- if I see another flake I think I will freak! I live in the South for a reason!
As for books....
FINISHED:
Moon Over Manifest by Clare Vanderpool (5 out of 5 stars...best book I've read in a long time! Newbery Medal Winner of 2011)
Planting Dandelions by Kyran Pittman (4 out of 5 stars -- life in the maternal trenches behind the white picket fence)
CURRENTLY READING:
The Coral Thief by Rebecca Stott (February book club choice)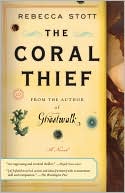 Washington City is Burning by Harriett Robinet (Mother/Daughter book club choice)

Hope you live someplace warm and sunny, and if you do, may I come visit?!
What are you reading this week?