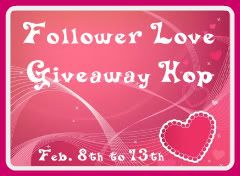 Chocolate is overrated -- what everyone wants this time of year is a good book -- and a little romance to go with it!
And to thank my readers and to "show them some love" I am giving away the following:
Rachel has always been the good girl- until her thirtieth birthday, when her longtime friend Darcy throws her a party. That night, after too many drinks, Rachel ends up in bed with Darcy's fiance. Rachel is completely horrified. She pretends it didn't happen, maybe it will all go away-and so will her feelings for this guy.
She prays for fate to intervene, but when she makes a choice she discovers that the lines between right and wrong are blurry, endings aren't always neat, and you have to risk all to win true happiness.
Entering is EASY -- no tweeting, texting, twirling, or tiptoeing -- you must either BE a follower on GFC or BECOME a follower and fill out the attached form. One entry for everyone!
Tuesday, February 8th until Sunday, February 13th at 10pm CST
(sorry folks, must pick a winner before I go to bed!)
Winner will be chosen via random.org and notified via email. They will have 24 hours to respond or another winner will be chosen.
If you are looking for other ways to spread the love before Valentine's Day, please check out the other participating blogs: